In today's world, there are wine packaging alternatives such as boxed wine, canned wine, and other materials. However, this blog will explain the benefits of using glass, why glass has been used since the beginning of wine itself, and how WinePak can help find your perfect wine packaging solution.
QUICK FACTS ON THE BENEFITS OF GLASS
Infinitely Recyclable - Glass is 100% recyclable. It can be recycled repeatedly without losing its purity or quality and it can be made into new glass bottles and containers. Heating recycled glass requires a lower temperature/melting point than creating glass from virgin materials, which saves energy and raw materials, and lowers carbon emissions.
Premium Aesthetic - The premium weight of glass, combined with its ability to decorate in various techniques, conveys to consumers that they are purchasing a high-quality and luxury product.
"GRAS" - Glass is generally recognized as safe by The U.S. Food and Drug Administration (FDA), giving consumers peace of mind they can avoid any potential health risks. Glass is free of harmful chemicals, so no contaminants are released into the wine. It is also non-porous, so there are no interactions between the wine and material that will affect its flavor.
Extended Shelf Life - Glass bottles have an extended shelf life due to the material's higher barrier properties and no chemical permeation. Its transparency can also reassure consumers that the wine quality is maintained.
MANUFACTURING OF WINE BOTTLES: THE PROCESS
The process of making a wine bottle involves 9 steps:
1. Choosing the raw material
2. Batch house
3. Melting
4. Feeding
5. Forming
6. Annealing
7. Inspection
8. Any additional decoration
9. Packing and shipment
There are many intricacies involving glass for manufacturing, which is why it's important to have a packaging partner you can rely on. TricorBraun WinePak has the knowledge, resources, and tools to best serve you.
TricorBraun WinePak sources bottles from the top glass manufactures- both domestic and global. Our partnership with these suppliers allows us to provide you access to an exceptional selection of both stock and custom products and packaging options. From design to delivery, we will proudly partner with you to ensure that your wine finds its perfect bottle.
MANUFACTURING OF WINE BOTTLES: SIZES & SHAPES
Wine bottles are produced in all shapes and sizes- the design of some bottles dating back to the nineteenth century. The reason specific wines come in certain style bottles is a tradition as old as wine itself. The bottle shape does not affect the wine's flavor, but instead tells a story about the long line of history and tradition behind the varietal and its origination. There are hundreds of different bottle shapes; however, the two most widely used wine bottles are the Burgundy style and Bordeaux (Claret) style bottles. Here at WinePak, we source our Burgundy and Claret bottles from the finest names in the glass manufacturing business.
Burgundy Wine Bottle
The Burgundy bottle was the invented in the nineteenth century and was initially used for varietals such as Chardonnay and Pinot Noir. As these popular grapes spread to the rest of the world, so did the Burgundy bottle. Today most red wines similar to Pinot Noir or whites that have spent time in oak are still bottled in the Burgundy bottle. You might assume that this bottle's curved sides were created to enhance the wine's flavor or aging process. But, in fact, it's said that the Burgundy bottle's curves were designed this way simply because it was easier to create. Luckily, soft-angled bottle shoulders improve vertical load strength, which is critical for the palletization of glass bottles for shipping and storage. WinePak offers a variety of stock and custom burgundy bottles with varying weights, heights, and neck finishes.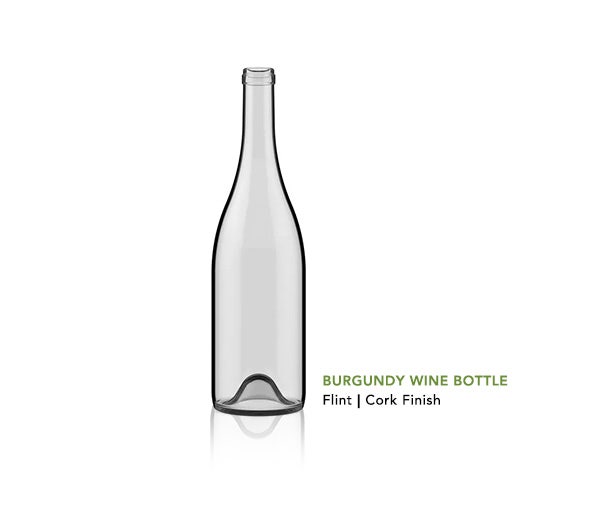 Bordeaux, or Claret, Wine Bottle
Shortly after the creation of the Burgundy bottle, came the Bordeaux bottle, also widely known as Claret. Cabernet, Merlot, and Sauvignon Blanc are a few of the most popular varietals to come in a Bordeaux style bottle. The Bordeaux, or Claret, bottle has more prominent shoulders towards its top and then tapers straight down for a narrow base. This design is ideal for high-speed filling and labeling lines. Since glass bottles bump into each other on the operational lines, two contact points (shoulder and heel) provide stability, preventing tipping and glass breakage, which minimizes scrap. WinePak offers a variety of stock and custom Claret bottles with varying weights, heights, and neck finishes.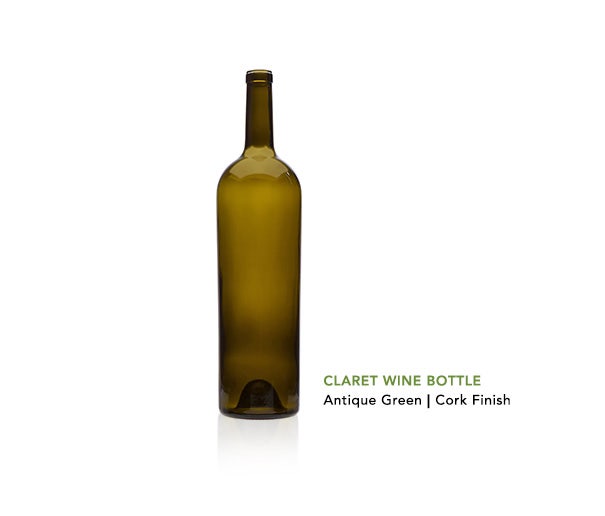 Sparkling Wine Bottle
Sparkling wine bottles are built differently than other standard bottles used to store and ship wine. These bottles contain high-pressure products, meaning the glass bottle must be strong enough to withstand the pressure and carbonation of sparkling wine. Round glass bottles are the only choice, as sharp edges create weaknesses that lead to breakage. Sparkling wine bottles are built to have a deep punt for structural integrity and have a bead on the finish for either a crown cap closure or wire cage over a cork. WinePak offers a wide selection of high-quality bottles for sparkling wine and champagne. We stock and source a variety of different bottle sizes, colors, and types to ensure you always have the right fit for your wine.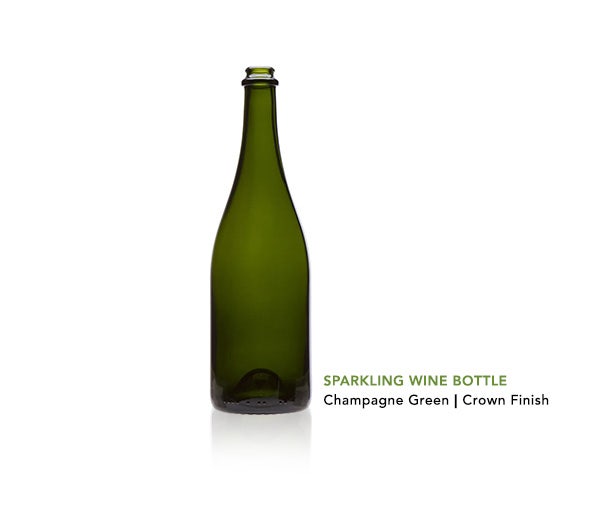 As a winemaker or winery owner, you have the luxury of deciding the style of bottle your wine to goes into. Our expert Packaging Consultants can help with finding the perfect mold of the specific style bottle you are looking for. We feature a broad selection of high-quality wine bottles from the finest names in the wine packaging business. View our selection of stock products or design a bottle that fits your product's unique profile.
---
TALK TO A PACKAGING CONSULTANT

Whether you're looking for a stock package or a groundbreaking custom design, WinePak's proven process will guide your packaging decisions from napkin sketch all the way to the retail shelf.