HOW TO PREPARE FOR CONTINUITY OF SUPPLY
The supply challenges that the wine industry has recently faced are unprecedented. As your global partner in packaging, TricorBraun WinePak is here to help wine producers navigate these tough times so that you have the bottles you need on time year after year when it's time for wine production to commence.
Here are some preventative strategies to deploy so you don't run into logistic headaches:
PLAN AHEAD: The best way to prepare is to plan. It is never too early to start forecasting, even a year in advance, and share your plans with your suppliers.
CONTRACTS MATTER: Another important factor to consider is having contracts with suppliers. During allocations, contracts always take precedence and hold both parties to an agreement. At WinePak, commitments from customers allow us to make commitments to our glass manufacturers, which ensure you get your glass on time.
STAY FLEXIBLE: An important note to keep in mind during these times is to be flexible on your bottle type and color. Sometimes taking what you can get may be your only option, so be flexible!
SUSTAINABILITY CAN CUT COSTS: One last key item to consider is to look at sustainable options, including lighter-weight bottles. With more sustainable options in place, we encourage our customers to consider more lightweight options to benefit both the environment and your business's bottom line. See our options for lightweight bottles below.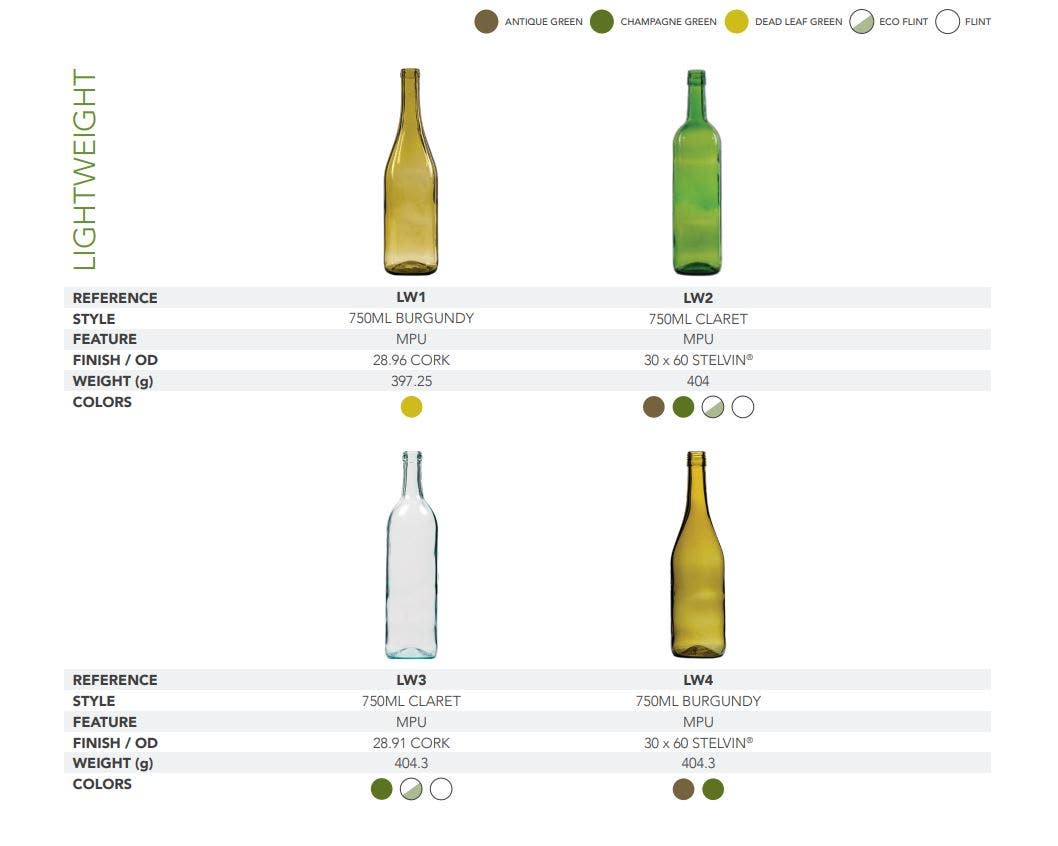 HOW WINEPAK IS RESPONDING
SUPPLY & CAPACITY
Here at WinePak, we have invested significantly in stock tool duplication across the world, allowing more options for certain bottle molds than ever before. We have also committed to new glass furnaces and diversified our supply chain across all geographies. It has been our mission to create a portfolio of always in-stock items to better serve our customers to ensure we have what you need by the time you need it. One of our proudest accomplishments in recent years has been leveraging our extensive warehousing capabilities to ensure consistency during peak or disruptive periods in the global supply chain.
TRANSPORTATION
Planning far ahead, WinePak has looked down the road and made sure to implement supplier and freight partner connected platforms. In doing so, this enables visibility across all aspects of supply chain, from factory floor to distribution door. We are continuously evaluating partners to make sure spot pricing remains competitive. Lastly, we came up with a plan to target key lanes to solidify contract pricing as spot rates drop to ensure long-term pricing stability.
INFLATION
We all know how inflation can put a setback on business decisions. All of us at WinePak take inflation into consideration when navigating these difficult times. One of the tactics we take is streamlining and consolidating warehouse and repacking operations to help cut costs. We also work with all suppliers to create efficiencies for their plants to offset potentially increased costs for items like boxes, parts, repacks, molds, and color campaigns. For us, it is imperative to work with ports, trucking companies, rail, and steamships to create the best possible and most economic lanes of delivery of our product.
-----
When it comes to wine packaging, we're ready to handle all your sourcing and operational needs—even in cases of changing or unforeseen circumstances. Ask us how we can help you manage your supply chain.
Contacts us today!
info@tricorbraunwinepak.com
1-800-DRINKWINE
---
TALK TO A PACKAGING CONSULTANT

Whether you're looking for a stock package or a groundbreaking custom design, WinePak's proven process will guide your packaging decisions from napkin sketch all the way to the retail shelf.